Later edit:
27 Aug. 2018 - We are so happy to share with you that Bookly has been featured as App Of The Day in US. You can check the story here: Kiss Your Book Backlog Goodbye
26 Jan. 2017 - The app has reached 65k users in 1.5 months since it was launched (with no marketing!).
13 Jan. 2017 - ‪In 2017, we'll be reading more... Bookout, featured once again on the US AppStore
5 Jan. 2017 - So proud to announce that Bookout got a banner feature on the main page of the US AppStore!
5 Jan. 2017 - We absolutely love this review of Bookout on Book Riot.
2 Jan. 2017 - Bookout has been featured in The Guardian's best apps of 2017 resolutions list.
15 Dec. 2016 - This is incredible, Bookout has got a banner feature under the books category in US and Canada.
13 Dec. 2016 - Awesome news! Bookout has been featured in the US AppStore New Apps We Love list.
To comply with my non-disclosure agreement, I have omitted and obfuscated confidential information in this case study.
A BIT OF A BACKGROUNG STORY
Last year someone contacted me randomly on Behance asking if I was interested in designing an app for booklovers. This turned out to be one of the nicest collaborations I've ever had, with a great client passionate about books and great apps. So Bookout was born.
THE APPROACH
A Lean Approach
We opted for a lean approach which emphasizes rapid sketching, prototyping, user feedback and design mockups. This created early team‐wide alignment and arose a lot of great ideas.
We landed in the middle of a young market (for apps)
I know there are many people who read out there. Not as many as I wish there were, but still, it is a pretty large group. To make it even larger, there are many other people who with they would read more, and might be motivated by an app like Bookout. Having Goals, Achievements and all sorts of cool statistics about your reading sessions may be just the right trigger to broaden the group. And we would be very happy to help with that.
MY ROLE
I've been the sole designer that took care of the UX, as well as the UI design, Interaction Design, Icons, Flow and last but not least, the nice animations.
THE FEEL
Onboarding
We wanted to give the user a great feel from the start, letting him know what he will find in the app. No surprises ahead.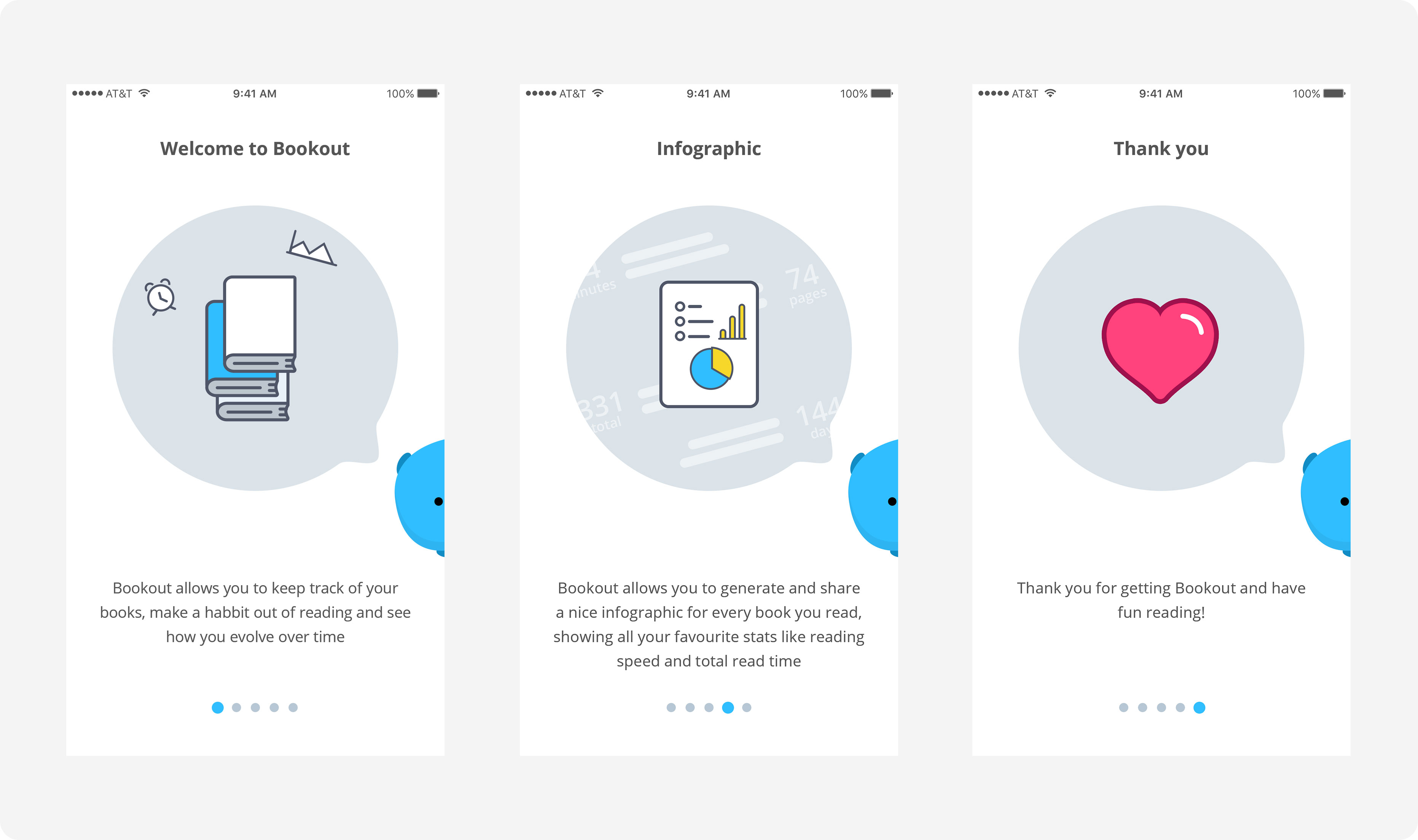 Features
You can add books read in the past, scan the ISBN code and search for a book in the database, or just add manually any info you want.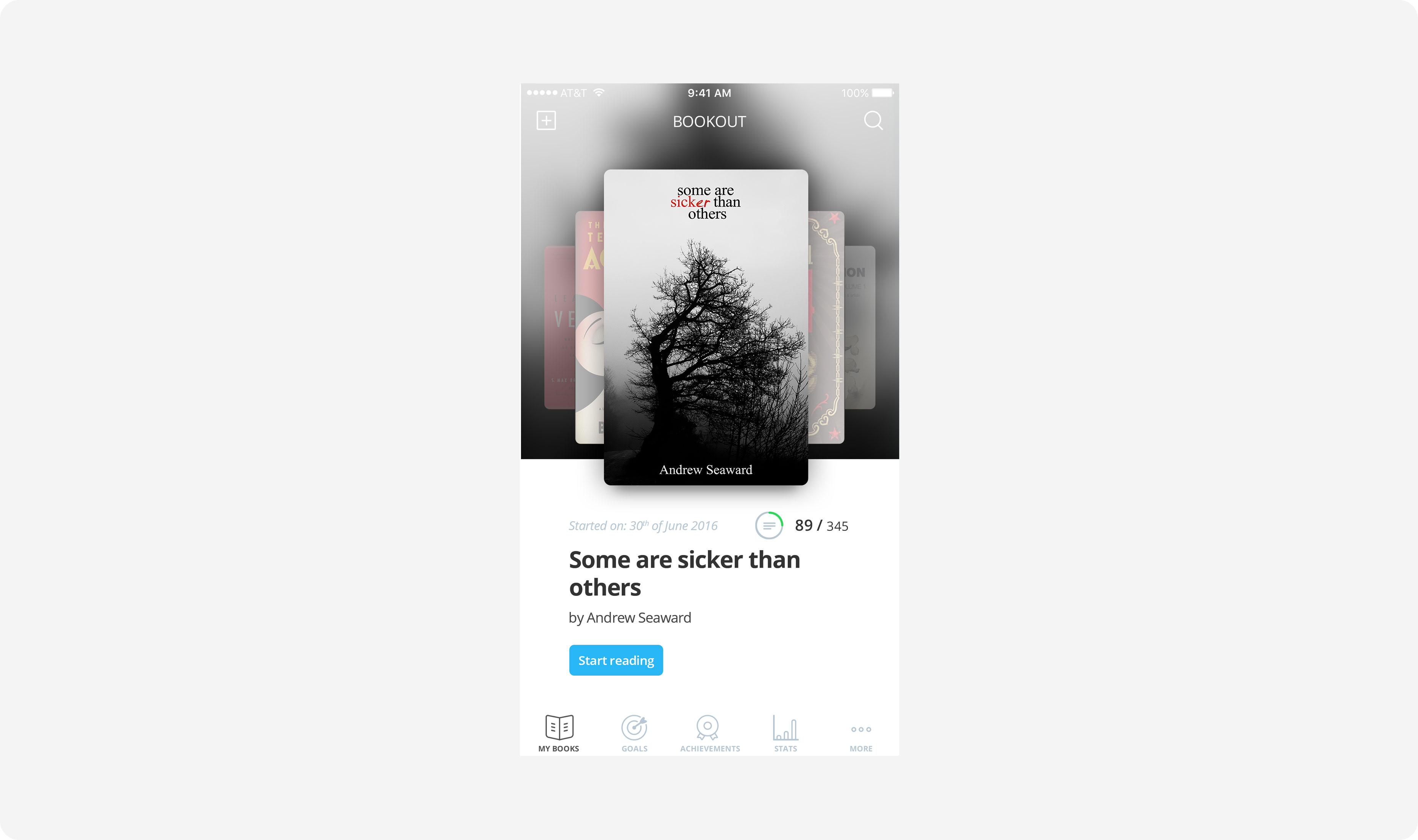 Goals, Achievements, Stats, writing down your favourite quotes or thoughts on the books are just some of the cool features of Bookout.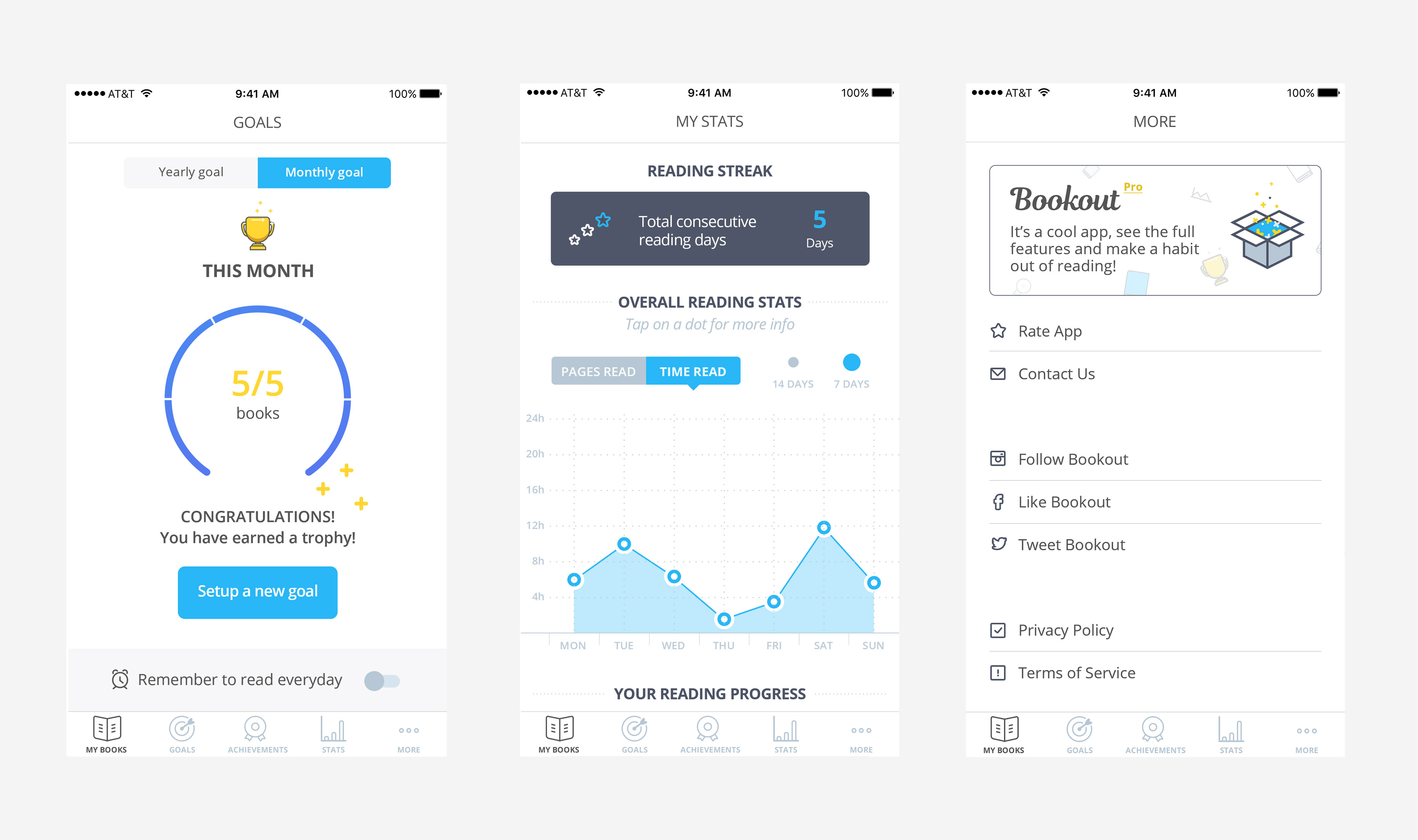 When you finish reading a book Bookout will generate a nice infographic with the main stats highlights.

For more download the app for free from the AppStore.